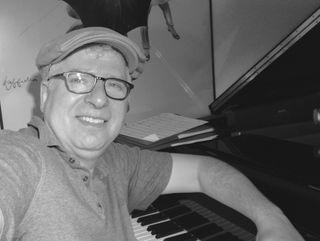 The Live Music Show Podcast with Howard Britz
The weekly podcast featuring live music recorded at my studio in Brooklyn by myself and and some of the finest musicians around New York City. In addition to the music, I will be trying to find out the backgrounds of the musicians, what keeps us motivated and what we're working on.
Download or stream all episodes for free on iTunes 
No. 1 The Live Music Show Podcast with Howard Britz 
Episode 1 has me at the piano playing one of my compositions 'Journey' that was originally recorded on my first CD 'The Future The Past' featuring, John Swana tpt. Uri Caine pno, Byron Landham dm & myself on bass plus the beautiful standard 'Old Folks'.
Today and every Tuesday, I hope you'll check the podcast to hear some good music and see who's dropping by.
Please leave (polite) comments if you're so inclined and thanks in advance for checking it out.  Listen
No. 2 (Trumpeter Pasha Karchevsky) The Live Music Show with Howard Britz 
This week we feature the wonderful young trumpeter, Pasha Karchevsky.  From Siberia, Russia Pasha's fascination with Jazz brought him to New York City, where he's playing all over town.  It's a great indication of how the power that Jazz has to cross cultural and physical boundraries to reach & inspire people all over the world.  We talk about his background and how he discovered Jazz in the interview later.  Enjoy the music and as always, love to read your comments.
No.3 (Bassist, Tal Ronen) The Live Music Show with Howard Britz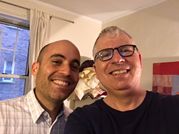 Tal Ronen, is an Israeli double bassist living in NYC, I remember when he first came to New York because we crossed over briefly at City College CUNY, he on the way in, me on the way out.  The word was, look out, this guy is great! well they weren't wrong, Tal has a big beat, beautiful sound and melodic swinging solos, he also, as it turned out was a great conversationalist and I had a great time finding out from him about Jazz in Israel and the link to NYC and his thoughts on the role of the bass in Jazz.  Some really nice music and great conversation on this episode.
No. 4 (From the Vaults Pt. 1) The Live Music Show Podcast with Howard Britz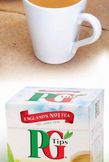 This week on the show, while I'm away in England at my sister's wedding drinking more tea than usual, I've taken the opportunity to go into the vaults of my recordings to share with you a few gems from my previous albums/CDs. It's a pleasure to be able to share music made with such fine musicians as Jacques Schwarz-Bart (tenor) Terrion Gully (Drums) James Hurt (piano) George Colligan (piano) Casey Benjamin (Alto) David Smith (trumpet) John Swana (trumpet) Sylvia Cuenca (drums) Eric Halvorson (drums) Bill Moring (bass) and Donny McCaslin (tenor)
I talk about the recordings, of the impact of first hearing the Keith Jarrett Standards Trio in the Mid 80s and how it seemed to affect the Jazz scene in London at the time. There's a track I specially recorded for the show that I hope recalls that vibe in my own way. I hope that you enjoy episode 4 of the LMS podcast and if you haven't checked them out, all previous episodes are at iTunes or Soundcloud.
No. 5 From the Vaults P.2, The Live Music Show Podcast with Howard Britz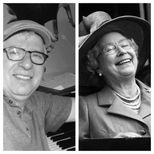 This week on the show while I was in England we present some more great tracks from the archive, featuring, wow!, some amazing musicians, Donny McCaslin (David Bowie), George Colligan, John Swana, Uri Caine, Sylvia Cuenca, David Smith, Casey Benjamin, Eric Halvorson, Bill Moring and Ellio Villafranca. It was nice to see my old friend, Queen Elizabeth II who just dropped by to hang out during the show, great jazz fan that she is (WARNING this last sentence may contain NO facts)
I had a great time putting this together, hope you enjoy the music from 1997 - 2013.
No.6 Bassist/composer Mary Ann McSweeney, Live Music Show Podcast with Howard Britz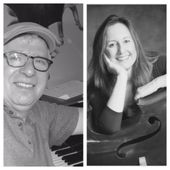 This week on the Live Music Show Podcast we have the bassist, composer Mary Ann McSweeny, long time New York City first call musician for Jazz, Broadway, singer songwriters and classical music.  Mary Ann is a natural musician who studied classical piano as a child practicing four hours a day, won competitions, played conciertos with orchestras before picking up the violin then eventually the bass.  We talk about how she got to study with world famous bassists, Ray Brown and John Clayton, came to New York from CA and her incredibly varied career.  We play Monk, Ellington and an original of mine together, fun interview.
No. 7 Tim Armacost (sax) Yoshi Waki (bass) The Live Music Show Podcast with Howard Britz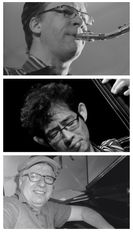 Tim Armacost is a saxophonist and composer, son of a American diplomat who spent large chunks of time in Japan (he speaks fluent Japanese)and India absorbing the culture and language whilst developing a passion for Jazz which he now plays in the US and around the world.  Yoshi Waki is a first call double and electric bassist in NYC, from Japan, who first came to the US when he was 5 years old then after returning to Japan came back to the US to attend Berklee College of music at 19.  It was fascinating to listen to these two superb musicians talk about some of their overlapping experiences in Japan and the US and play some swinging music together in the studio.
No. 8 Bassist/composer Dylan Talyor, The Live Music Show Podcast with Howard Britz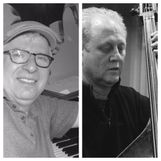 Dylan Taylor is a bassist and composer from Philadelphia PA, he started off on cello at school and was encouraged to play bass thinking it would be an easy transition, not so easy, he said, yep upright bass is a serious undertaking, I know that.  Dylan learnt on the gig, when a bandleader of a restaurant gig he had early on asked him if he played upright, he'd just started but said yes anyway, after that the guy said, leave the electric bass at home from now on, so Dylan figured it out as he went along, it all seems to have worked out though because he's a great bass player now as you'll hear.  Also I remenis about the Jazz scene in Philly where I lived from '96 - '98 which Dylan says is as vibrant as ever.